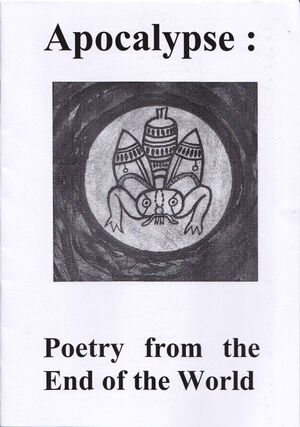 Apocalypse: Poetry from the End of the World
is an A5
poetry booklet
celebrating the
2012 'End Times'
, released in December 2012 with cover art by
Chris James
.
Rear Cover
Edit
Cover artist Chris James notes that his cover image is a Mayan 'Bee God', according to archaeologists – but also notes that veteran 'paleo-contact' hypothesiser Erich Von Däniken, in The Gold of the Gods, thought that the "hideous creature" looks like it is carrying bombs on its back, perhaps representing a doom-laden weapon of mass destruction!
This collection is not to be confused with The End of the World, a fiction booklet published earlier in 2012 by Atlantean, although its author Pamela Harvey does also feature in Apocalypse...
Responses
Edit
"A neatly packaged collection. A nicely sardonic one from Steve as kick-off. JC Hartley's another welcome dose of humour – quite clever too. Alpha and Omega is an interesting thought. I'm pleased to be in it!" – John Light
"A delight to read" - review in Carillon.
Ad blocker interference detected!
Wikia is a free-to-use site that makes money from advertising. We have a modified experience for viewers using ad blockers

Wikia is not accessible if you've made further modifications. Remove the custom ad blocker rule(s) and the page will load as expected.