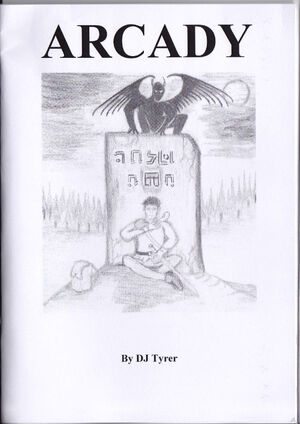 Arcady
is an A5
poetry booklet
collecting the poetry of
DJ Tyrer
.
The cover reproduces the illustration from the first issue of Monomyth by Richard Burman. Interior art is by Ian O'Reilly. The cover shown at right is that of the third edition.
There have been three editions of Arcady, with a revised printing of the third.
The first edition was published in 2002, the first ever booklet to come from Atlantean Publishing.
The second edition was published in 2003 with some additional poems.
The third, tenth-anniversary edition was published in March 2012, and was significantly revised and expanded with some poems dropped and many added to strengthen the Arcadian theme running through it.
Due to a computer glitch which meant some of the copyright information was incorrect, a corrected version of the third edition was released in April 2012, making the initial March 2012 printing an extremely rare short-run version!
Third Edition (2012)
Second Edition (2003)
First Edition (2002)

(to come)
The third edition was one of the first two booklets (along with The End of the World) to be published with the new Atlantean 'A' logo on its back cover.
Ad blocker interference detected!
Wikia is a free-to-use site that makes money from advertising. We have a modified experience for viewers using ad blockers

Wikia is not accessible if you've made further modifications. Remove the custom ad blocker rule(s) and the page will load as expected.