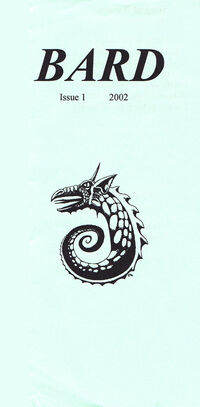 The very first issue of Bard was published in June 2002. The cover artwork was uncredited, but was almost certainly provided by Edwin Page.
The first ever poem to appear was by Aeronwy Dafies, fittingly perhaps since she has gone on to appear in scores of subsequent issues of the 'zine.
Like other early instalments of Bard, there were relatively few poems included.
Ad blocker interference detected!
Wikia is a free-to-use site that makes money from advertising. We have a modified experience for viewers using ad blockers

Wikia is not accessible if you've made further modifications. Remove the custom ad blocker rule(s) and the page will load as expected.