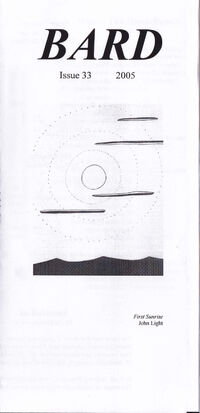 Issue 33 of Bard was published in 2005, with cover artwork (First Sunrise) by John Light.
This issue saw the finale of an unbroken streak of 26 consecutive issues contributed to by the prolific DS Davidson, stretching back to Bard 8.
Ad blocker interference detected!
Wikia is a free-to-use site that makes money from advertising. We have a modified experience for viewers using ad blockers

Wikia is not accessible if you've made further modifications. Remove the custom ad blocker rule(s) and the page will load as expected.