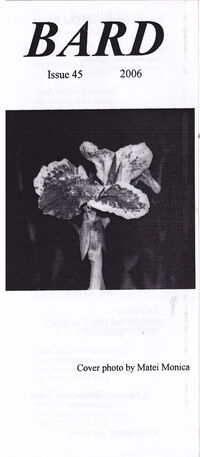 Issue 45 of
Bard
was published in 2006, with a cover photograph by
Matei Monica
.
The last three poems are a back-and-forth sequence, with the first and third of them being addressed to the protagonist of the second, and vice versa.
The word bach (pronounced as in Johann Sebastian and his famous family of German composers) is not a surname, but the Welsh word meaning 'small, little'. Used after or in place of a person's name, it is a term of endearment roughly equivalent to calling someone 'dear' or 'pet', or more literally 'little one'.
Ad blocker interference detected!
Wikia is a free-to-use site that makes money from advertising. We have a modified experience for viewers using ad blockers

Wikia is not accessible if you've made further modifications. Remove the custom ad blocker rule(s) and the page will load as expected.