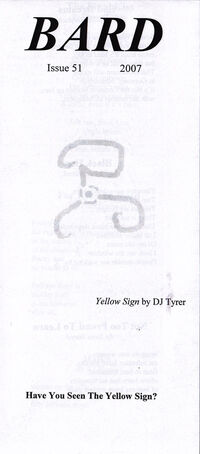 Issue 51 of
Bard
was published in 2007, with cover art (
Yellow Sign
) by
DJ Tyrer
.
Publication was contemporaneous with The King In Yellow, Atlantean's anthology of Yellow Mythos fiction and verse, a fact that is reflected in DJ Tyrer's cover design (including the significant Mythos words "Have you seen the Yellow Sign?") and in the appearance of his poem, which is extracted from the anthology and appears, unusually, on the back of this issue.
Ad blocker interference detected!
Wikia is a free-to-use site that makes money from advertising. We have a modified experience for viewers using ad blockers

Wikia is not accessible if you've made further modifications. Remove the custom ad blocker rule(s) and the page will load as expected.