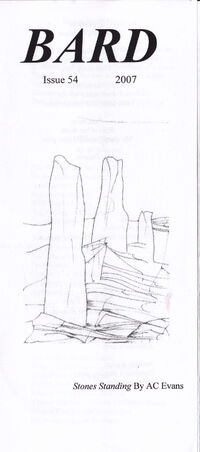 Issue 54 of
Bard
was published in 2007, with cover artwork (
Stones Standing
) by
AC Evans
.
Standing Stones complements the cover art.
Remarkably, the same cover design was accidentally duplicated — the only time this has happened in Bard history — precisely 50 issues later, in Bard 104.
The poem Planet Of The Apes Archive was placed shared-second in the 2008 Data Dump Award.
Ad blocker interference detected!
Wikia is a free-to-use site that makes money from advertising. We have a modified experience for viewers using ad blockers

Wikia is not accessible if you've made further modifications. Remove the custom ad blocker rule(s) and the page will load as expected.