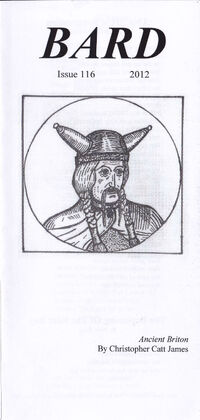 The 116th issue of Bard was published in June 2012 with cover art (Ancient Briton) by Christopher Catt James.
This issue marks the tenth anniversary of Bard.
Although not immediately obvious from the title, the poem Choice is directly linked to the cover art.
There is something of a choice/decision theme to the issue.
Ad blocker interference detected!
Wikia is a free-to-use site that makes money from advertising. We have a modified experience for viewers using ad blockers

Wikia is not accessible if you've made further modifications. Remove the custom ad blocker rule(s) and the page will load as expected.