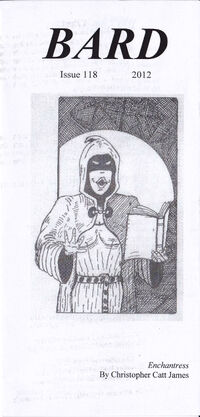 The 118th issue of Bard was published in August 2012 with cover art (Enchantress) by Christopher Catt James.
Curse accompanies the cover art.
In a wonderful piece of synchronicity, Janice D. Soderling's haiku and the poem Ghost Town Visit both mention yellow butterflies.
Ad blocker interference detected!
Wikia is a free-to-use site that makes money from advertising. We have a modified experience for viewers using ad blockers

Wikia is not accessible if you've made further modifications. Remove the custom ad blocker rule(s) and the page will load as expected.