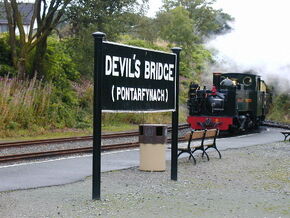 Doctor Who story, a fan fiction by DJ Tyrer, published in Out Of The Vortex. Set in Devil's Bridge and Aberystwyth, Wales, in 1998, where the 4th Doctor and Romana are enjoying a day out. They discover that a Lomarian Penal Craft has crashed in the vicinity and go to investigate, encountering a Cyberman, Ulfyn and other aliens that they must deal with. The adventure culminates with an epic chase atop the Cwm Rheidol steam train, ending on the roof of a University building.
The story includes a brief, unnamed, cameo for DJ Tyrer and Richard Burman prior to the Doctor's arrival – they are amongst the group of University students passing an AA phonebox. This did, in fact, occur during an outing to Devil's Bridge, DJ joking about the similarity of the phonebox to the TARDIS, although we have no evidence that the Doctor arrived immediately afterwards.
The story includes a scene in which the Doctor speaks in Welsh to an ice-cream vendor he says is the future President of Wales.
The Doctor indicates that this story is a prequel to Gene Thief, by referring to the missing Trefoilan prisoner.
Ad blocker interference detected!
Wikia is a free-to-use site that makes money from advertising. We have a modified experience for viewers using ad blockers

Wikia is not accessible if you've made further modifications. Remove the custom ad blocker rule(s) and the page will load as expected.