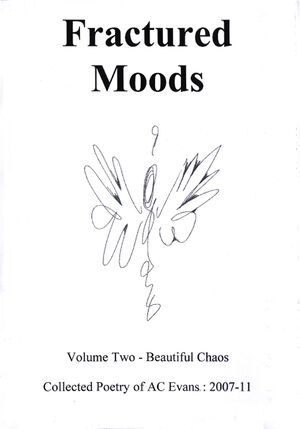 Fractured Moods, Volume Two: Beautiful Chaos is a poetry booklet collecting the poems and one prose piece of AC Evans published by Atlantean Publishing between 2007 and 2011. The cover art is The Angel Metonymy by AC Evans. The booklet was published simultaneously with Volume One: Haunted Astral.
Responses
Edit
"Showcases AC's talents and language." - review in Carillon.
Ad blocker interference detected!
Wikia is a free-to-use site that makes money from advertising. We have a modified experience for viewers using ad blockers

Wikia is not accessible if you've made further modifications. Remove the custom ad blocker rule(s) and the page will load as expected.