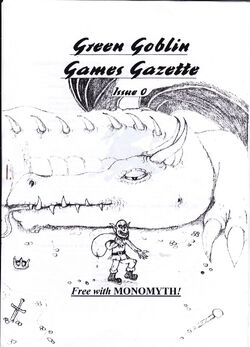 The proposed
Atlantean Publishing
'roleplaying fanzine' series
Green Goblin Games Gazette
came into being shortly after the turn of the millennium, but did not progress beyond its exploratory
'Issue Zero'
, which appeared in July 2000. This coincided with the start of a long period of reorganisation and reordering of priorities at Atlantean, known as the Great
Hiatus
, which saw the title disappear onto a back-burner from which it
failed to reappear
.
'4G' hoped to cover a variety of related topics: not just static 'traditional' RP but also live-action roleplaying, board games, wargames, miniatures and 'Choose-Your-Own-Adventure'-style gamebooks. There would be room too for gaming-related fiction, poetry and artwork; alas, only the handful of items covered in Issue 0 ever made it to press. A perhaps surprising number of details survive, though, of what was planned for the first edition proper (tentatively scheduled for January 2001), and of what would have appeared as regular series features, as these were stated in the 'Coming Next' and 'Guidelines' subsections of that "zero'th" issue:
This would, at minimum, have contained the following "for certain", notwithstanding any further submissions from Atlantean readers:
A 'Ten of the Best...Roleplaying Games' list
An article on horror roleplaying
A piece for The Tome (see below)
A roleplaying scenario
'The Embago Debacle', a wargame based on editor DJ Tyrer's story Veteran X published in Monomyth 10
A reprint of the story 'Veteran X', as above
An article on a collectable card game
The ongoing series
Edit
Plans were outlined for regular features, with hopes to include the following every issue if submitted by readers:
A roleplaying scenario (up to 3000 words) – these might deal with any genre; preferably supplied with character stats for at least one system, or notes on adapting it to different systems
One from the following:

Two encounters (up to 1000 words each) – providing generic ideas for items, people or events that could provide plot hooks for a host of games; preferably with suggestions for use, e.g. a non-player character and some ideas for his true identity or motivation
or: A strange location (up to 3000 words) – anything from villages to alternative dimensions, in which players could adventure, described in detail with suggestions for use

Reviews (up to 500 words each) of games, books and magazines, plus one of a 'classic' game (up to 2000 words)
A section known as 'The Tome' – 500-1000 word articles, unveiling new monsters, artefacts or traps that referees could use in their games; includng ideas for use, statistics amd artwork if supplied
It was also mooted to publish the following:
A complete, free, 'dark fantasy' roleplaying game by DJ Tyrer, in four parts across the first year's set of issues
Prose fiction (up to 2000 words) and poetry (up to 40 lines)
Black-and-white artwork (up to A4 in size)
Articles (up to 3000 words) dealing with any aspect of the gaming hobby

For more on the lone prototype issue that did make it to publication, see Green Goblin Games Gazette.
Ad blocker interference detected!
Wikia is a free-to-use site that makes money from advertising. We have a modified experience for viewers using ad blockers

Wikia is not accessible if you've made further modifications. Remove the custom ad blocker rule(s) and the page will load as expected.