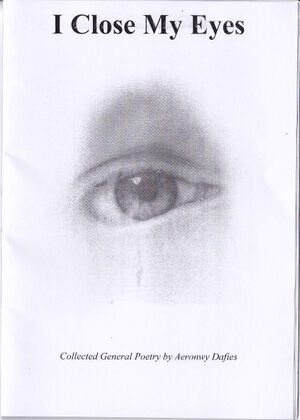 I Close My Eyes is a booklet of poetry by Aeronwy Dafies. It was released in June 2013. Along with the two volumes of The Long Road Home, A Tapestry of Stars and Quest it collates all her poetry published by Atlantean Publishing until the end of 2010. It has a cover photograph by David Leverton.
Back cover
Edit
The cover art was first used three months earlier on Bard 122.
Ad blocker interference detected!
Wikia is a free-to-use site that makes money from advertising. We have a modified experience for viewers using ad blockers

Wikia is not accessible if you've made further modifications. Remove the custom ad blocker rule(s) and the page will load as expected.