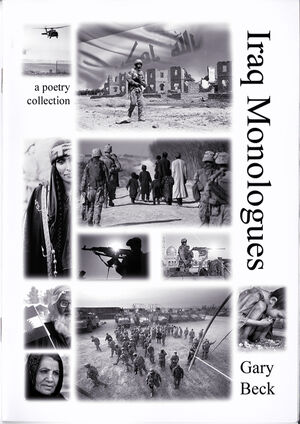 Iraq Monologues is an A5 booklet-format poetry collection by Gary Beck, consisting of the Iraq Monologues poetry cycle. It was published in December 2012, with a cover designed by David Leverton, although overseas copies only shipped in January 2013.
Iraq Monologues poetry cycle
Edit
This is a sequence of ten poems by Gary Beck, of which each gives a different perspective on the situation in Iraq since the occupation of that country post-2003.
The poems, each named for the viewpoint character narrating, are:
GI
Sunni
Shia
Kurd
al Qaeda
Mahdi Army
Bedouin
British Officer
Sunni Mother
Shia Girl
Poet Comment
Edit
"You made a fine chapbook"
— Gary Beck
Ad blocker interference detected!
Wikia is a free-to-use site that makes money from advertising. We have a modified experience for viewers using ad blockers

Wikia is not accessible if you've made further modifications. Remove the custom ad blocker rule(s) and the page will load as expected.