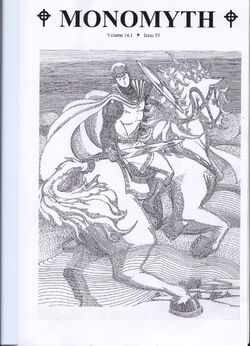 Monomyth is the original magazine in the stable that became Atlantean Publishing. Now twenty years and over sixty issues old, its origins precede the 'Atlantean' name by several years. It began as an A4 publication and averaged 20-30 pages per issue. Originally monthly(!), the 'zine became quarterly following a long hiatus after the turn of the millennium, appearing twice yearly. In 2017, it changed to an A5 format with three issues per year.
It features mostly short fiction, covering a wide variety of genres but often quirky, offbeat or fantastical.
Due to the length of this page, the sections below have been made collapsible to aid swiftness of navigation. Click on the '–' symbol to the right of a section to collapse it down to a header.
Editors/contributors
Issues and Covers
Trivia (issues/covers)
History
Numbering Confusion
Subsections
Offshoots
Logo and Tagline
Ad blocker interference detected!
Wikia is a free-to-use site that makes money from advertising. We have a modified experience for viewers using ad blockers

Wikia is not accessible if you've made further modifications. Remove the custom ad blocker rule(s) and the page will load as expected.