Monomyth Issue 32 (Number 30) / Volume 4.5Edit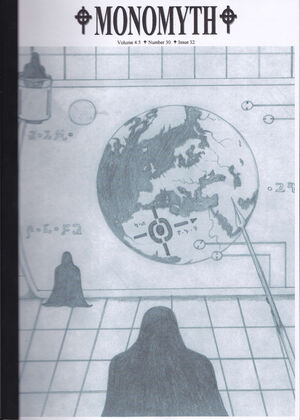 Released in November 2004, a month after the previous issue, with a cover by
Richard Burman
.
List of contents
Edit
This issue included reprints of each of the first three issues' covers.
Pentacle concluded in this issue, but was reprinted in its entirety in Monomyth 50.
The Case of Ezra Haig-Simpson had earlier been serialised in Monomyth, but was reprinted here in its entirety.
Richard Burman's poems in this issue had originally appeared as the earliest poems in Monomyth, and were reprinted here to celebrate the anniversary.
The Standing Stone was the second poem by DJ Tyrer to be inspired by Richard Burman's cover for issue one (the other being A Pause In Arcady; only one other such cover-inspired poem exists, Unbidden).
Ad blocker interference detected!
Wikia is a free-to-use site that makes money from advertising. We have a modified experience for viewers using ad blockers

Wikia is not accessible if you've made further modifications. Remove the custom ad blocker rule(s) and the page will load as expected.