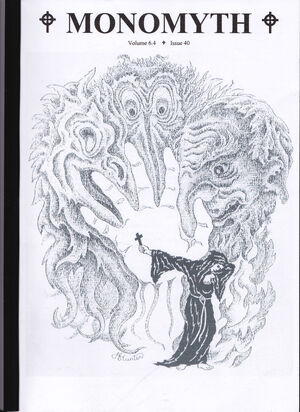 Released in October 2006 with a cover by
Alan Hunter
.
2006 was the last year to feature four volumes a year, shifting to two a year from 2007.
List of contents
Edit
Although DJ Tyrer did supply a haiku to this issue, continuity in authors was still being largely maintained only by the presence of Angela Morkos.
This was the last issue to feature a serial due to the shift to only two issues a year after this until the loose arc of The Mirror Quartet and the return of serials with The Legend of Hengist and Horsa, nine years later.
Ad blocker interference detected!
Wikia is a free-to-use site that makes money from advertising. We have a modified experience for viewers using ad blockers

Wikia is not accessible if you've made further modifications. Remove the custom ad blocker rule(s) and the page will load as expected.