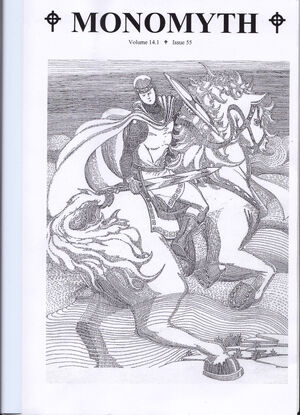 Released in September 2014 with cover art by
Ian Brown
.
List of contents
Edit
Neal Wilgus's poem Museum of Wind was the first-place winner of the 2015 Data Dump Award.
As September is an unusually late date for the first issue of a year, whilst the preceding year had wrapped up its own schedule earlier than any other, there was a full year's wait between Monomyth 54 and this issue. This is the second-longest gap in Monomyth's publication history, second only to the Great Monomyth Hiatus.
Ad blocker interference detected!
Wikia is a free-to-use site that makes money from advertising. We have a modified experience for viewers using ad blockers

Wikia is not accessible if you've made further modifications. Remove the custom ad blocker rule(s) and the page will load as expected.