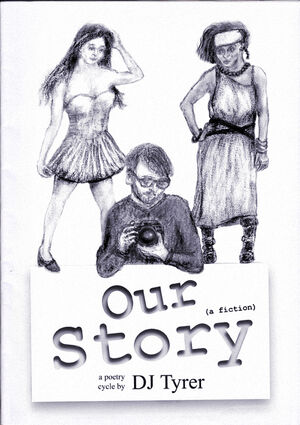 Our Story
is a
booklet
by
DJ Tyrer
, featuring his poetry cycle of the same title, "
a poetic tale of love from its sweet beginning to its bitter end...
". It was published in March 2013. The cover illustration and design is by
David Leverton
.
"I can recommend this as something you can buy sight unseen to enjoy yourself or pass it on as a great present to anyone."
— review by Les Merton, Poetry Cornwall #37
Our Story poetry cycle
Edit
Our Story consists of thirteen poems, each consisting of four twelve-line stanzas, for a total of 48 lines per poem and 624 lines for the entire cycle.
First Meeting (This details how the narrator met the model Ruth Kopelowitz.)
First Date (Their romance takes its first tentative step.)
Path Of True Love (Their romance develops.)
First Quarrel (The first hint that all will not be plain sailing for the couple.)
Preparations (Ruth accepts the narrator's proposal.)
The Wedding (They make their vows.)
Honeymoon (The calm before the storm.)
Married Life (Things go awry in their relationship.)
Boutique (The seeds of betrayal are planted when the narrator first meets Maggie-Lee.)
Illicit Meeting (The narrator and Maggie-Lee take the first steps to an affair.)
Quarrels (The relationship between the narrator and Ruth breaks down...)
Moving Out (...and falls apart entirely, leading to...)
Divorce (In which the tale comes to its tragic end, albeit with a hope of a new beginning.)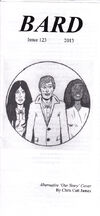 The opening stanza of the first poem in the cycle, First Meeting, was published in Bard 123 (right) as a teaser in March 2013. The issue used an alternative cover design for the booklet by Chris Catt James.
The poem is not only probably the longest that DJ Tyrer has written, it is probably the one that has taken longest to be written as it has gone through several revisions over the course of a decade.
The depiction of the narrator in the David Leverton cover may seem oddly familiar to some readers...
Ruth and Maggie-Lee were envisaged as being like Kelly and Lisa in Saved By The Bell, a fact that David caught extremely well for someone unfamiliar with the show!
The cycle's title forms the final two words of the final poem.
Ad blocker interference detected!
Wikia is a free-to-use site that makes money from advertising. We have a modified experience for viewers using ad blockers

Wikia is not accessible if you've made further modifications. Remove the custom ad blocker rule(s) and the page will load as expected.