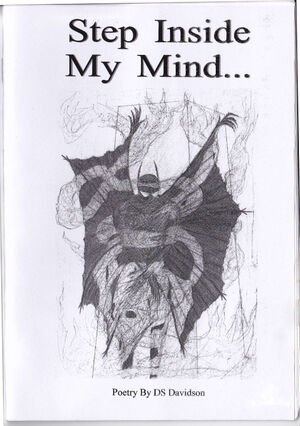 Step Inside My Mind... is an A5 poetry booklet collecting the 'serious' poetry of DS Davidson (as opposed to his humorous oeuvre, compiled in The Poetaster's Response) and first published in 2003. A revised and expanded edition was produced in 2011.
The cover art is by David Leverton, reproducing an illustration originally drawn to accompany the first part of his story 'All That Glistens' in Monomyth 15. The first edition of the booklet also contained internal art by Richard Burman, though this was lost from the revised collection to allow extra text space. Both editions used essentially identical cover designs; it is the 2011 version that is shown at right.
| | |
| --- | --- |
| Second Edition (2011) | First Edition (2003) |
| | |
Ad blocker interference detected!
Wikia is a free-to-use site that makes money from advertising. We have a modified experience for viewers using ad blockers

Wikia is not accessible if you've made further modifications. Remove the custom ad blocker rule(s) and the page will load as expected.