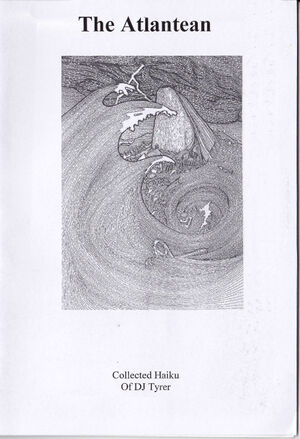 The Atlantean: Collected Haiku is an A5 poetry booklet, published in 2008. It compiles all the non-Reissian haiku of DJ Tyrer thus far published, together with nine new additions — comprising nearly 90 haiku in all.
Cover art: The Fall Of Atlantis by Ian Brown, originally the cover illustration for Monomyth issue 33.
The poems are mostly untitled individually, but are divided into the following sequence of categories:
Fortean (8 haiku)
History (2 haiku)
Old Leigh (2 haiku)
Love (2 haiku)
People and Daily Life (18 haiku)
Christmas (7 haiku)
Politics, Society and War (11 haiku)
Crime (4 haiku)
Science and Philosophy (3 haiku)
Harry Potter (2 haiku)
Horror (6 haiku)
Nature (9 haiku)
Miscellaneous (3 haiku)
Creativity (3 haiku)
New Haiku (9 haiku)
Ad blocker interference detected!
Wikia is a free-to-use site that makes money from advertising. We have a modified experience for viewers using ad blockers

Wikia is not accessible if you've made further modifications. Remove the custom ad blocker rule(s) and the page will load as expected.