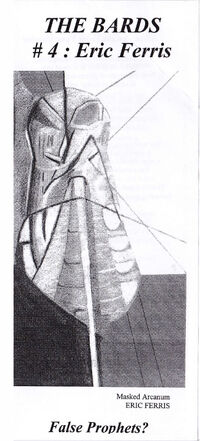 The fourth issue of The Bards, False Prophets? by Eric Ferris, was released in [xx] with cover art (Masked Arcanum) by the author.
The is is the only instalment of The Bards to modify its front cover format, reducing the size of the title and altering the style of the issue number/author name line, while featuring a much larger image than other covers in the series (due to it being the work of Eric Ferris, making this also the only instalment not designed by DJ Tyrer)
Ad blocker interference detected!
Wikia is a free-to-use site that makes money from advertising. We have a modified experience for viewers using ad blockers

Wikia is not accessible if you've made further modifications. Remove the custom ad blocker rule(s) and the page will load as expected.