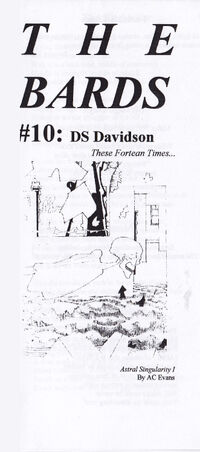 The tenth issue of The Bards, These Fortean Times... by DS Davidson, was released in [xx] with cover art (Astral Singularity I) by AC Evans.
Critical Evaluation
Edit
AC Evans, writing in The Supplement: "DS Davidson writes definite and distinctive poetry that perfectly suits his ironical 'fortean' perspective. DS Davidson does not write vaguely evocative verse and therefore may not conform to the stereotypical notion of the merely 'poetical' - god for him!"
Ad blocker interference detected!
Wikia is a free-to-use site that makes money from advertising. We have a modified experience for viewers using ad blockers

Wikia is not accessible if you've made further modifications. Remove the custom ad blocker rule(s) and the page will load as expected.