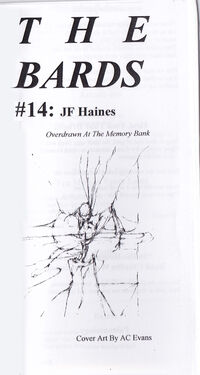 The fourteenth issue of The Bards, Overdrawn At The Memory Bank by JF Haines, was released in [xx] with cover art by AC Evans.
Paleontology is probably the shortest poem ever published by Atlantean Publishing, at just two words long!
Such brevity helps this issue cram in more poems than any other of The Bards, seventeen.
Ad blocker interference detected!
Wikia is a free-to-use site that makes money from advertising. We have a modified experience for viewers using ad blockers

Wikia is not accessible if you've made further modifications. Remove the custom ad blocker rule(s) and the page will load as expected.