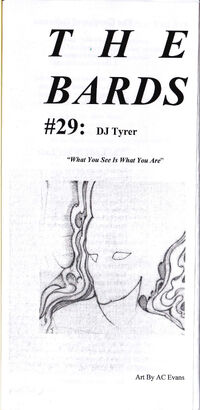 The twenty-ninth issue of
The Bards
,
What You See Is What You Are
by
DJ Tyrer
, was published in January 2012 with cover art supplied by
AC Evans
. This is DJ Tyrer's second entry in the series (the first was his anti-war collection in
issue 7
) and presents a broad sample of his poetry in different styles, lengths and genres, some previously published.
With this issue DJ Tyrer became only the second poet in The Bards' 29-issue history to contribute a second volume to the series — the first was fellow Atlantean Publishing stalwart DS Davidson.
Responses
Edit
"What great poems" — Dave Austin (letter to The Supplement)
"Best poem, for me, is The Girl Nobody Knows. Very relevant in the Facebook-vacuous web of isolation the current crop of adolescent loners (by culture-necessity, not choice) find themselves trapped in" — Dave Wright (letter to The Supplement)
Although not so enamoured of the collection as of Yellow Leaves 1, Neil K Henderson did say: "Enjoyed The Garden of Gehenna, though." (letter to The Supplement)
Ad blocker interference detected!
Wikia is a free-to-use site that makes money from advertising. We have a modified experience for viewers using ad blockers

Wikia is not accessible if you've made further modifications. Remove the custom ad blocker rule(s) and the page will load as expected.