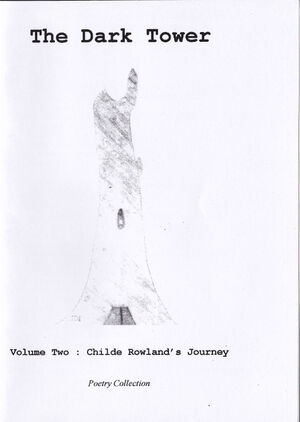 The Dark Tower — Volume Two: Childe Rowland's Journey
is an A5 multi-author (credited inside as
"by Steve Sneyd and others"
)
poetry booklet
, inspired by the broad theme of the titular 'dark tower'. It is dominated by
Steve Sneyd
's epic poem 'Childe Rowland To The Dark Tower Came'.
Published in 2006, it iis the second volume in a sequence that has come to be known as The Dark Tower series.
Cover art by DJ Tyrer.
Childe Roland to the Dark Tower Came is the title of Robert Browning's classic poem of 1855, which itself borrowed its title from a line in William Shakespeare's King Lear; the ultimate source is the otherwise unrelated fairytale Childe Rowland. Many previous authors have borrowed names and symbolism from the various versions of the tale, from Alan Garner for Elidor to Stephen King in his own The Dark Tower series.
Ad blocker interference detected!
Wikia is a free-to-use site that makes money from advertising. We have a modified experience for viewers using ad blockers

Wikia is not accessible if you've made further modifications. Remove the custom ad blocker rule(s) and the page will load as expected.