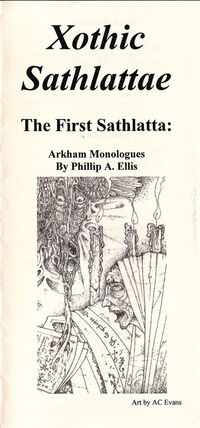 The First Sathlatta is the first in the Xothic Sathlattae series and was published in May 2013. It consists of fifteen poems by Phillip A. Ellis comprising the Arkham Monologues. The cover art is by AC Evans.
The sequence of poetic monologues, of two stanzas each, narrate the secret sins and vices of different inhabitants of Arkham, Massachusetts. They concentrate as much upon the horror of human depravity as they do the horrors of the Cthulhu Mythos and contain some quite disturbing hints at what goes on beneath the seemingly genteel surface of this small New England town...
The fifteen Arkham Monologues are for:
Welcome To Arkham
Elementary School Teacher, Joe Shea
Richard Marten, Arkham Historical Society
Jonah Martensen, Arkham Gardener
Legal Receptionist, Lilith De Leon
Children's Librarian, Linda Lovecraft
Danforth Gardener, Publisher
Martin Van Whipple, Landlord
Howard Cole, Plumber
Mercy Kirk, Organist
Prudence Mather, Bookstore Clerk
Tim Underwood, Taxidermist
Garnet Moyle, Male Prostitute
Robert Dexter, Fire Warden
Ward Philips, Poet
Ad blocker interference detected!
Wikia is a free-to-use site that makes money from advertising. We have a modified experience for viewers using ad blockers

Wikia is not accessible if you've made further modifications. Remove the custom ad blocker rule(s) and the page will load as expected.