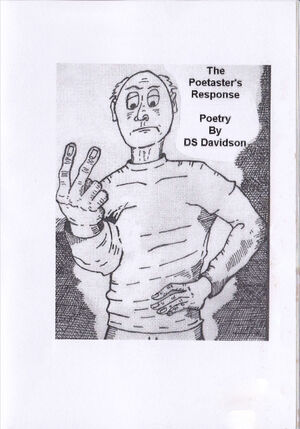 The Poetaster's Response is an A5 poetry booklet, published in 2011, compiling over 80 of DS Davidson's cynical and humorous poems previously published in various Atlantean Publishing outlets up to the end of 2008.
A poetaster (rhyming with "aster", not "taster") is a contemptuous term historically often applied to inferior, oversentimental, poor-rhyming and just plain bad poets — particularly those thought to harbour unwarranted pretensions to artistic value. The Latin word was coined by Erasmus in 1521, and introduced to the English language by Ben Jonson in 1600. Here, though, DS Davidson reclaims the word as a badge of pride, worn in the face of critics. The original title of the collection was to be 'The Poetaster's Retort' — but Christopher Catt James' cover art inspired an even more to-the-point variation!
The Garbajman is written to the 'tune' of The Candy Man, from classic film musical Willy Wonka & the Chocolate Factory and famously sung by Sammy Davis Jr., and obliquely references DS Davidson's former role as editor of Atlantean's satire/humour/nonsense 'zine Garbaj.
A Lesson Still Not Learned carries the note: "Wilfred Owen wrote the poem Dulce et Decorum est during the First World War — unfortunately we still have yet to learn that it is not a fine and fitting thing to die for your country... DS Davidson's poem recreates the style of the original updated to the events of today. Not much has changed.".
Ad blocker interference detected!
Wikia is a free-to-use site that makes money from advertising. We have a modified experience for viewers using ad blockers

Wikia is not accessible if you've made further modifications. Remove the custom ad blocker rule(s) and the page will load as expected.