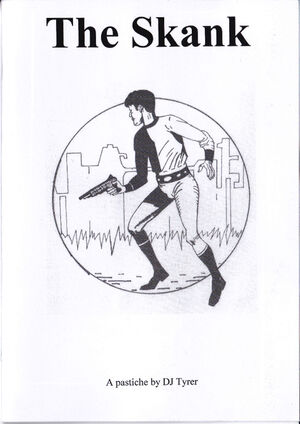 The Skank is an A5 booklet containing the story of the same title, a pastiche fiction by DJ Tyrer.
The tale is a science-fiction parody featuring "hero of the Z Patrol", brave Captain Jake Jones, and his crew of Space Scouts as they battle the "tall, lean, vile and green" menace of the Skank in "a thrilling outer space adventure!".
Published in August 2013 with cover and internal art by Christopher Catt James.
Ad blocker interference detected!
Wikia is a free-to-use site that makes money from advertising. We have a modified experience for viewers using ad blockers

Wikia is not accessible if you've made further modifications. Remove the custom ad blocker rule(s) and the page will load as expected.