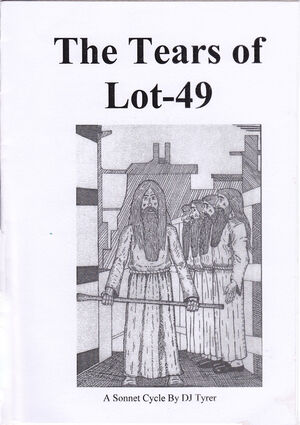 The Tears Of Lot-49 is a short sonnet sequence from DJ Tyrer, published in 2011 as an A5 poetry booklet, featuring the cloning of Biblical figures and the plotting of a faceless corporation in a dystopian future.
The title and concept was originally inspired by way of a pun on Thomas Pynchon's 1966 novella, The Crying of Lot 49.
Cover art by Chris Catt James. Internal art by AC Evans.
Sonnet sequence
Edit
Cloning of the Patriarchs
Lot-49
21st Century Solution
Wife's Refusal
Sinister Purpose
Revelations
Time To Cry
Ad blocker interference detected!
Wikia is a free-to-use site that makes money from advertising. We have a modified experience for viewers using ad blockers

Wikia is not accessible if you've made further modifications. Remove the custom ad blocker rule(s) and the page will load as expected.