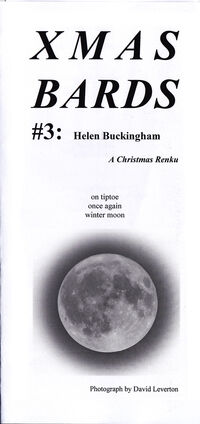 The third
Xmas Bards
poetry collection,
A Christmas Renku
, was released for Christmas 2013. In a folded A4
broadside
format, it contains the 
A Christmas Renku
sequence from
Helen Buckingham
, with a cover image by
David Leverton
.
The moon photograph is that from Bard 109 — corrected to regain its original northern hemisphere perspective!
Unusually, one poem from the sequence ("on tiptoe / once again / winter moon") appears on the cover above the image of the moon.
Ad blocker interference detected!
Wikia is a free-to-use site that makes money from advertising. We have a modified experience for viewers using ad blockers

Wikia is not accessible if you've made further modifications. Remove the custom ad blocker rule(s) and the page will load as expected.