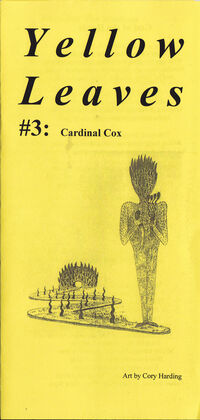 The third instalment in the Yellow Leaves series of Carcosa Mythos-inspired poetry collections,  was published in December 2012. It contains poems and prose fragments by Cardinal Cox. The cover art is by Cory Harding.
Responses
Edit
"A beautifully presented pamphlet for a wonderful poet"
— review in Carillon
Ad blocker interference detected!
Wikia is a free-to-use site that makes money from advertising. We have a modified experience for viewers using ad blockers

Wikia is not accessible if you've made further modifications. Remove the custom ad blocker rule(s) and the page will load as expected.