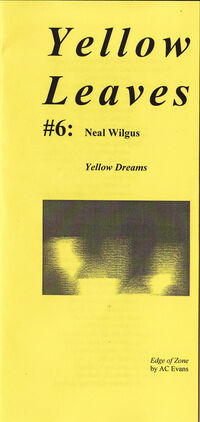 The sixth instalment in the
Yellow Leaves
series of
Carcosa Mythos
-inspired poetry collections
was published in November 2013. It contains a poem by
Neal Wilgus
. The cover art (
Edge of Zone
) is by
AC Evans
.
The issue consists of a single long poem, Yellow Dreams, in four parts.
An Epopt (presumably of the Cthulhu cult) also appears in his poem Negative Entropy.
Ad blocker interference detected!
Wikia is a free-to-use site that makes money from advertising. We have a modified experience for viewers using ad blockers

Wikia is not accessible if you've made further modifications. Remove the custom ad blocker rule(s) and the page will load as expected.